Adam Leighton Testimonials
for Acupuncture & Cupping and Traditional Chinese Medicine.


---
"I have recently been treated by Adam after contracting Covid back in April 2020, I was surprised and shocked to find myself with the long tail version, long Covid. Over several months Adam has really helped with the symptoms that have included headaches, chest Pain, breathlessness, muscle aches and severe fatigue to name but a few! Adam has also been great at treating the mental side of this illness too, he's always very compassionate, understanding and ready with a tissue when the tears have flowed. I have actually been treated by Adam in the past and so I just knew this was the right path to take. Adam has been brilliant at following Covid procedures at the clinic, wearing full PPE, cleaning everything down before each visit, hand gel, hand washing you name it, he has it covered which in these worrying times make you feel very reassured and confident about attending appointments. I have no hesitation in recommending Adam for acupuncture treatment."
- Rebekah A (November 2020)


"I am a Long Covid sufferer and have been having debilitating symptoms of chest pain, heart problems, digestive upset, headaches and tinnitus, amongst others, for 6 months. Adam's acupuncture has improved my energy and is helping to alleviate my chronic symptoms. I was in a very bad way when I first saw him and have been improving much more rapidly since having acupuncture. I'm still struggling with a few lingering symptoms but they are significantly less worrying and I am nearly back to my old self now and I'm much more present in my household and able to do more. We had an initial in-depth health consultation via zoom before my first appointment so he could get straight onto the first treatment in clinic and he checks in before every appointment to tailor the prescription. It's pretty painless and very relaxing and is helping me so much. Adam's attention to the safety aspect of hands on treatment in this current pandemic are incredibly reassuring and the clinic is spotlessly clean and disinfected between each patient and we both wear PPE. I am so happy and relieved to have found Adam as modern medicine was not helping me recover at this point in the illness."
- Helen (September 2020)


"Great service and very happy which the results. Adam saw me at short notice for a sudden back issue and alleviated a lot of pain with his acupuncture. Highly recommended."
- Stephen (September 2020)


"I had a terrible pain in my arm and could not move it. Within the first visit to have acupuncture with Adam, I could move my arm and the pain was much less. After the second visit I could freely move my arm and had no pain. I will definitely go back!"
- Robopa (August 2020)

Currently my youngest patient (not dad!) is a pleasure to treat. No fuss. Happy to have acupuncture! And his skin, food consumption and mood vastly improved over the last 3 months....listen to what his dad says!


---
A migraine sufferer still returns for 'top up' acupuncture treatments 5 years on because it works!



---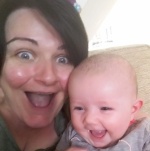 "Thanks to Adam for not only helping me through my pregnancy with my anxiety, hip and back pain but also helping my baby girl with her chronic tummy / intestine pain and her sleeping. We are very grateful for what you have done for our family."
- Jen (May 2018)


---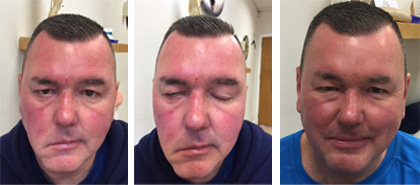 "I was introduced to Adam at the Eden Clinic by a friend who was having acupuncture. I had my condition for about 10 weeks prior to my first acupuncture session at which point my eye would not close properly and my mouth drooped. After only four sessions Adam had managed to get my eye closed and by the tenth session my face had lifted dramatically. I'm so glad I had the acupuncture treatment as it kick started my recovery and would I highly recommend it."
- Danny - (2016/17)


---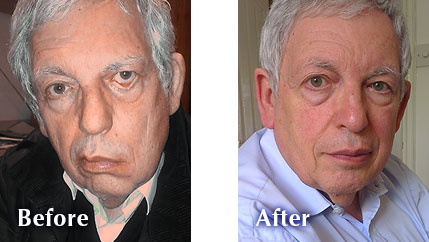 "Acupuncture at the Eden Clinic corrected my Bell's Palsy face in only 10 sessions.

You can imagine what it's like to discover one morning that you have Bell's Palsy. When people tell you that acupuncture will help, you can imagine the scepticism with which that remark is greeted. Ten sessions later with Adam at the Eden Clinic, and my scepticism has been removed, and replaced with a great sense of thanks- and a different face! See the pictures above.

I have only one regret; that I left it a couple of months before I went to Adam in the first place. I cannot thank him enough."


---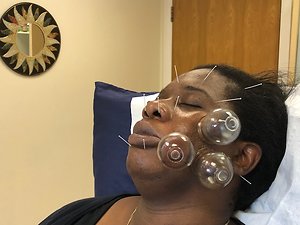 Treating a Bells Palsy patient with needles and cupping












---
A British Acupuncture Council video providing an insight into how Adam works and treats his patient John Joseph, who has suffered from back pain for many years.


---
"I highly recommend Adam as an acupuncturist. I came to him in the summer after 3 years of suffering from debilitating hormonal acne on my cheeks and jawline, as well as having a pretty irregular menstrual cycle.

Adam is very professional and careful in his treatments, making sure to understand the specifics of how you are feeling that day. His work is discrete and precise, and he is always sure to make sure you are not in any discomfort and are fully aware of what he will be doing that day.

I went once a week for about 5 months and in that time my menstrual cycle became perfectly regular and I stopped getting acne. The treatment I received was different each time and specific to how I was doing that week. I have to say I was somewhat sceptical that acupuncture could help me after traditional medicine had not, but I am now an acupuncture convert, and recommend acupuncture to anyone for whatever health problem they are finding difficult to cure.

The process of treating the whole body and addressing the root cause of ill health, not just its symptoms, is undoubtedly the logical way to approach healthcare. On top of that I must highly recommend Adam as being diligent, caring and professional at all times. Thanks again!"
- Sybil

"I was referred to Adam Leighton of the Eden clinic after trying months of physiotherapy and steroid injections for a fractured thumb which had been causing me a lot of pain . I am so grateful to Adam he has helped me enormously in a kind and caring way . More to the point my pain is gone and my thumb no longer throbs constantly ! I will certainly go to him again for any ailments of this kind. "
- Andrea Murray (2015)

"To those who approach acupuncture with trepidation or even scepticism, welcome to my world.

Many years ago as a last resort after trying every proprietary analgesic creams / painkillers / and seemingly voodoo doctors playing around with bones and muscles I didn't know existed, I accepted that millions of Chinese can't be wrong and looked for someone to stick needles in me ( and not utter a curse !)

It worked. I turn up, walking like a demented crab, Adam gets me to lie on a bed, a few needles, sometimes burning incense, a few words of wisdom (forgotten almost as I fall asleep) and one hour later a new me emerges like a butterfly from a chrysalis.

Do I believe in him? yes!
Do I trust his extensive knowledge? yes!
Do I recommend him? yes!"
- J Joseph

"I came to Adam Leighton suffering from shingles, which had developed into post hepatic neuralgia. My doctor told me it might take a year or more to recover. I was in severe pain, despite being on two types of painkillers, and sleeping was very difficult. A friend suggested I try acupuncture, and I therefore contacted the Eden Clinic. I had an initial consultation with Adam over the phone, and was impressed by his knowledge and experience. I then visited the Eden Centre, and after two sessions the pain had completely subsided. It was truly a miracle. Even my doctor was impressed! I would recommend Adam to anyone, and would add that acupuncture really works. I am really indebted to the Eden Centre."
- M Archer Oct 2014

"My 14 year old son has been treated by Adam Leighton for insomnia and migraines. We followed Adam's advice regarding nutrition and after acupuncture and cupping treatments, he started to feel much better, his overall health has improved greatly and he feels that he can concentrate better at school too. After one appointment for a sports injury to his knee he immediately began to feel relief from the discomfort. Adam puts you at ease immediately with his pleasant, kind and friendly manner. Thank you very much, Adam!"
- HF Feb 2013

"I've had problems with my left arm for some time. I was extremely impressed with Adam fom the outset. I found him to be a warm and engaging person - very professional, extremely knowledgeable and someone who believes passionately in what they practice. With no previous experience of acupuncture, I'd been recommended to Adam by someone close to me. I think it's fair to say that I became aware of an improvement after the first session. Subsequent visits reinforced my belief in the treatment. I'd certainly consider returning to Adam should I experience other health concerns in the future."
- Keith Feb 2013

"I suffered with chronic sinus problems for as long as I remember and after trying everything from surgery to remove polyps to herbal remedies I really thought there was no hope. The first day I walked into Adams clinic I could hardly talk through my congested nose. After about 6 sessions of acupuncture I could feel a difference and now 6 months later my nose hardly bothers me. He has given me invaluable dietary and lifestyle advice to support both mine and my family's health. Thank you Adam!!"
- Sharon Nov 2013

"I was very Impressed with my treatments at the Eden clinic. All the staff gave me a warm welcome every time I visited. This made me feel ay ease from my first visit. Adam is very knowledgeable and confident in his work. He was able to answer all my questions and more. My treatments were always on time and perfectly suited to me. I highly recommend Adam as he is very professional and the treatments are amazing. I thoroughly enjoyed each session and always left with a great sense of well being. Thank you Adam"
- Sam Dec 2013

"Very professional and thorough approach looking at all aspects if your health not only the issue you have presented with. Adam is very supportive but not too soft! My problems related specifically to my digestive system and the symptoms improved immediately. The treatment I have received has made a big difference to my quality of life and I wouldn't hesitate to recommend acupuncture to my friends."
- Despina Constantinides Sept 2013

"Having suffered from back pain for 6 years and having tried all types of traditional medicine to solve the problem, I turned to acupuncture to see if that might help. I was a bit of a sceptic at first but I am so pleased I gave it a go. Acupuncture really is the only treatment that gives me immediate and long term relief and I cannot recommend it highly enough to anyone suffering from muscular discomfort".
- S Israel

"Earlier this year, I'd made two long haul flights to America and Hong Kong - both resulting in terrible jet-lag on my return. On each occasion, it took about a week from landing to get back into a normal sleep pattern. I was falling asleep at 6pm, then wide awake until the small hours and feeling really wretched with it. Not surprisingly I was finding it very difficult to concentrate at work, and even trying to tire myself out with exercise didn't really help.

When I recently made a third international trip, again to America, I had already started having acupuncture a few weeks previously for other reasons. On Adam's recommendation, I came in to see him on the day that I landed. I'd arrived back in the UK at 6am not having slept at all on the flight. I crashed out for a couple of hours before my session and then dragged myself to the clinic for my appointment. After my session I felt pretty human for the rest of the day, which was a minor miracle in itself. That night, I slept deeply for 12 hours. After that, I was totally back to my normal sleeping patterns - no residual jet-lag at all, really good energy levels and no concentration issues at work.

I wouldn't hesitate to recommend an acupuncture session after travelling. It made a huge difference to me, and I'd definitely make this a regular part to any overseas trip."
- Jessica K

"I would like to thank you once again for your brilliant, fast cure of my neck, shoulder, arm problem. Less than 2 weeks (July 2010) ago I was in excruciating pain, now I'm happily driving, gardening etc. again.

Should I ever have a similar problem again, I know where to go and I would recommend you to anybody."
- Max Z

"Hi. Just wanted to say thx so much for coming today and for recommendation to Mr. Dooley. We are so pleased with the outcome of mtg and wouldn't have got this far without your help and advice."
- SC

"My knees were in a terrible state. I was struggling to negotiate stairs. I have been told I need both knees replaced. Acupuncture helped me be pain free, able to go for long walks and get up and down stairs!"
- Mrs.M

"I had facial pain (Bells Palsy) and I am pleased to report I am now more or less 100% better and back to normal. Although I took conventional medicine I am sure your treatments with acupuncture made my recovery much quicker..."
- Mr.L(Surgeon)

"For the last 10 years, Adam [Leighton] has been treating my MS (Multiple Sclerosis) symptoms with Acupuncture therapy to beneficial effect. On each appointment I describe current symptoms I'm suffering. The needles are put in so lightly, only just penetrating my skin but, I find Acupuncture eases any discomfort I've been experiencing and relaxing..."
- KJ from Barnet

"I broke my patella September 04 and after 7 months of NHS physiotherapy I was still walking with a limp and in a lot of pain. I decided to try Eden Clinic for Acupuncture [Adam Leighton]. One month from the day I limped in, I can honestly say that the treatment received has helped me enormously both for pain relief and mobility. I cannot thank the practice enough for helping me on my return to normality and I have been and will continue to recommend them."
- GB from Barnet

"Hi from New York, just wanted to say thanks, you fixed my knee!"
- DJ

"Adam - just wanted to tell you how amazing my neck feels today."
- Debbie

"Adam, I am walking to M&S and can't believe I can feel so much better already!"
- FK

"I have suffered from hayfever since the age of 15. Each year it has become progressively worse affecting my sleeping pattern, my work and social life. Nothing prescribed by my doctor helped in any way.

This year I finally decided that I needed to do something else and a work colleague suggested acupuncture. Frankly I was extremely sceptical and felt like it was all a load of new age nonsense, however I found the Eden Clinic on the internet and decided to give it a try. Within 2 sessions the change was apparent - I was sleeping better and finding the allergies had eased considerably.

I have now had several sessions and the change has been so dramatic that I have now finished my treatment for this year. Given the remarkably sunny weather we are having (which would normally have me hiding away indoors) I feel virtually hayfever free and can actually enjoy the summer for a change.

For those people who like me were almost in tears at some points I cannot recommend this treatment highly enough - and for those sceptics - it genuinely does work!!"
- Nicki Mc

"Recommendation by a recent convert!

I had always been sceptical about complementary therapies until I was persuaded to try treatments provided by Adam (and Annette). The aim was to alleviate arthritic pain pending hip surgery. It was a great success."
- AD

"Having previously experienced the benefits of acupuncture I was concerned when my practitioner moved away and I was in need of further treatment. But I need not have worried. Fortunately my doctor told me a number of her patients had recommended the Eden Clinic, a very welcoming place made so by the therapists who practice there.

I am often asked whether acupuncture is worth the expense and I always assure them that as far as I am concerned it is. It may not cure but it invariably helps to ameliorate my pain; a fact that was proved very forcibly to me recently when I was unable to have any treatment for a number of weeks by the end of which time much of the benefit I had gained had worn off and I was in agony again but further treatment soon helped.

I never fail to suggest to friends who have a problem to give acupuncture a try as it can help in so many other areas.
- DC


---
Maurice Leane Testimonials
for Chiropody and Podiatry.

"Having been patients of Maurice Leane [chiropodist] for some time, we have always found him to be hard working, conscientious, a good conversationalist, a good listener and very courteous. We feel totally relaxed in his company and always have a laugh (mostly about dogs and computers)."
- AA


---